2023-24 RESPECT BASKETBALL FULL YEAR PROGRAM
---
---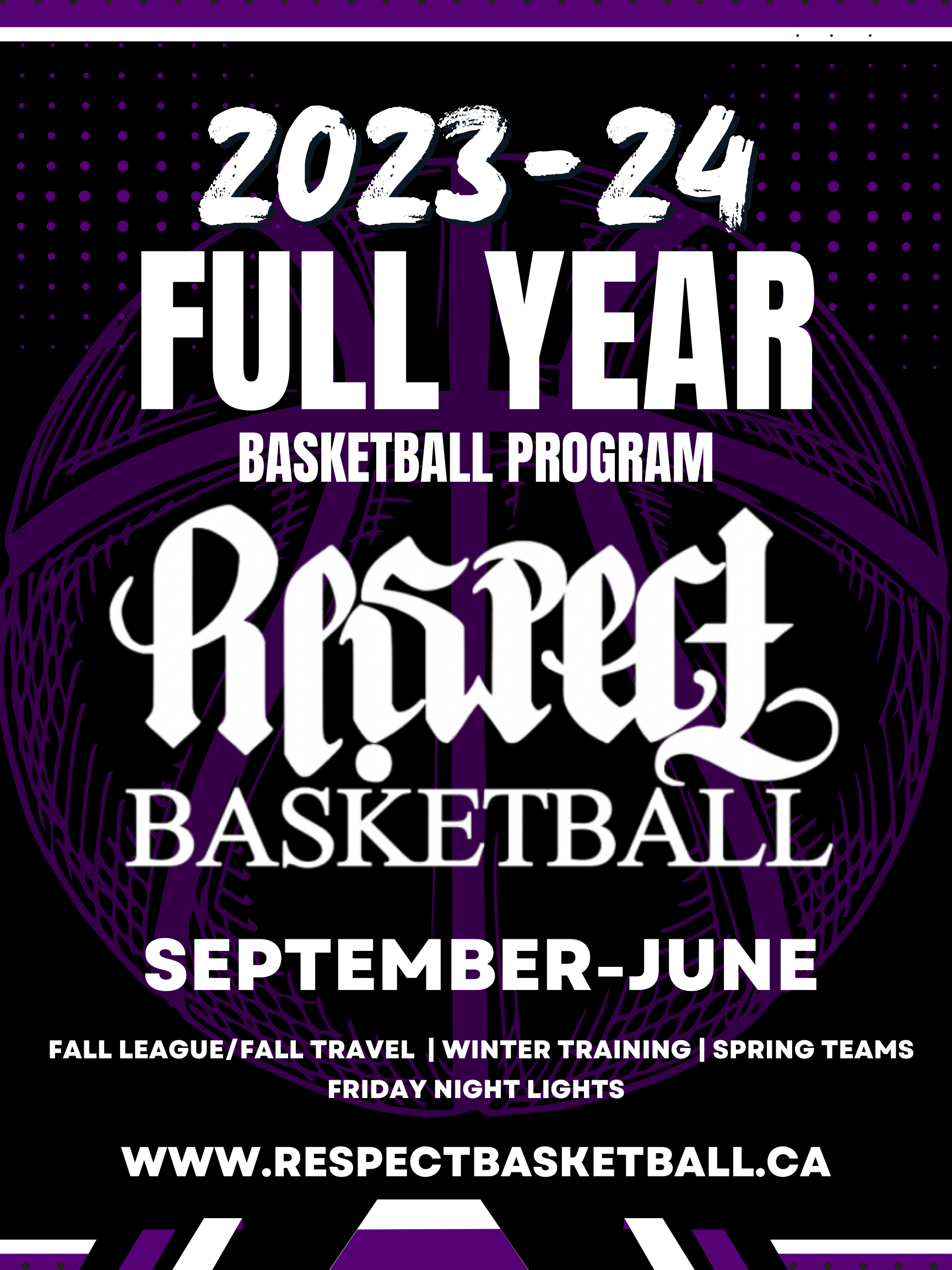 ---
Registration is now open for the 2023-34 Respect Basketball Full Year Program!
2023-24 RESPECT FULL YEAR BASKETBALL PROGRAM - SEPTEMBER 5, 2023 to JULY 1, 2024
OPTION ONE: PAID IN FULL: $1400 (INCLUDES 3 FREE BASKETBALL CAMPS | LIMITED EDITION RESPECT HOODIE | 6 FREE "FRIDAY NIGHT LIGHTS" PASSES - $600 VALUE)
OPTION TWO: SPLIT PAYMENT: $1450 (INCLUDES 2 FREE BASKETBALL CAMPS | 3 FREE "FRIDAY NIGHT LIGHTS" PASSES - $300 VALUE)
PAYMENT ONE: $725.00 DUE AT TIME OF REGISTRATION | PAYMENT 2: $725.00 DUE IN 30 DAYS
OPTION THREE: INSTALLMENT PAYMENTS: $1500 (INCLUDES 2 FREE "FRIDAY NIGHT LIGHTS" PASSES )
PAYMENT ONE: $300 at the TIME of REGISTRATION | PAYMENT TWO: $300 SEPTEMBER 1st | PAYMENT THREE: $300 DECEMBER 1st | PAYMENT FOUR: $300 MARCH 1st | FINAL PAYMENT: $300 JUNE 1st
________________________________________________________________________________________________________________________________________________________________________________________________
The Respect Basketball Full Year program is a Calgary Club Basketball program for boys and girls U10-U18. Respect players will harness and refine the physical skills of the game and learn the philosophy of the game, skill-appropriate plays & strategies, rules & terminology along with character-building and focus on team camaraderie.
Fall Season: September 5th-November 12th
Entry to Fall League
1 Team Practice/Week
1 League Game/Week
Fall Gear Package (Respect Basketball Bag, Fall League Reversible Uniform, Fall Season Respect T-Shirt)
Option to try out for the Fall AAU travel team
Winter Skills Training: November 20th- March 13th
If you are looking for a Calgary basketball training program, the Respect Basketball Winter Skills Training involves high-intensity, individual skill development, and training that is geared toward practical game situations. We want all our players at this age to make their respective middle school and junior high school teams and we have insight into what those coaches are looking for so we have built our program around that premise. This skill development will focus on sharpening fundamentals up to ELITE status skill work. This is not the army - YES, we work very hard, but we do it in an enjoyable atmosphere so all you need to concentrate on is getting better. Give us a PERFECT effort and we will give you the platform to be as successful as you desire. You only get better if you are pushed to be better!
2, 90-Min training sessions/week focusing on individual skill development & prep for the spring season
Option for Winter House League (More Details TBA)
Winter Season Respect T-Shirt
Spring Season: Evaluations March 18th-March 29th | Spring Season: April 8th-July 1st
All of your hard work during winter training is paid off when you begin the highly anticipated 2024 Spring Basketball Season. Players are evaluated for placement on a team based on skill. Teams will participate in competitive gameplay; options include leagues, tournaments, and exhibition games. We offer local, Canadian, and American tournament options.
2-3 practices/week
3-4 tournaments or league equivalent included (AAU/USA & Canada Options)
Exhibition games
Home & Away Jersey Sets (Jersey and Shorts)
Respect Team Apparel
Warm-up Shirt
T-Shirt
Water bottle
FRIDAY NIGHT LIGHTS: SEPTEMBER-MARCH
On select Fridays from 6:00 PM-9:00 PM, join us for Friday Night Lights drop-in basketball at the Respect House of Hoops! Open to all registered Respect Basketball athletes - non-members must register and sign the participation waiver before entering the gym and will be charged a $10 drop-in fee. Dates TBA soon!
PAYMENT METHODS ACCEPTED
To qualify for the "Paid In Full" and 'Split Payment" bonuses, payment obligations must be met. We are pleased to accept the following payment methods:
CASH
E-TRANSFER: Please Send an e-Transfer to:respectbball@gmail.com
Please include your child's first and last name in the information section before sending your e-Transfer.
CREDIT CARD PAYMENT: If you would like to pay by credit card, please select 'cash' when prompted during the registration process. After completing your registration form, click the link found in your confirmation email to access our payment portal and follow the prompts to process your payment. All credit card payments are subject to an administrative fee.
CLICK HERE TO ACCESS THE CREDIT CARD PAYMENT PORTAL
MULTI-FAMILY MEMBER DISCOUNT
Respect Basketball is pleased to offer families with two or more athletes registering in a full-year program a 5% discount.
Please Note: Due to high demand, limited space is available and all programs are offered on a first-come, first-paid basis.